Each month you will receive from us an invoice for our service.
This article is meant to explain its contents in detail and answer any questions you might have with regards to it.
First invoice is issued at the subscription date and it covers the subscription fee only.
All following invoices are issued on 1st of the month and cover the subscription in advance + commission for the previous billing period.
If you will find yourself still wondering about something invoice related, feel free to reach out to your dedicated Account Manager (if you are one of our Pro Plan subscribers) or one of our Customer Care Agents.
How to read my Glopal invoice?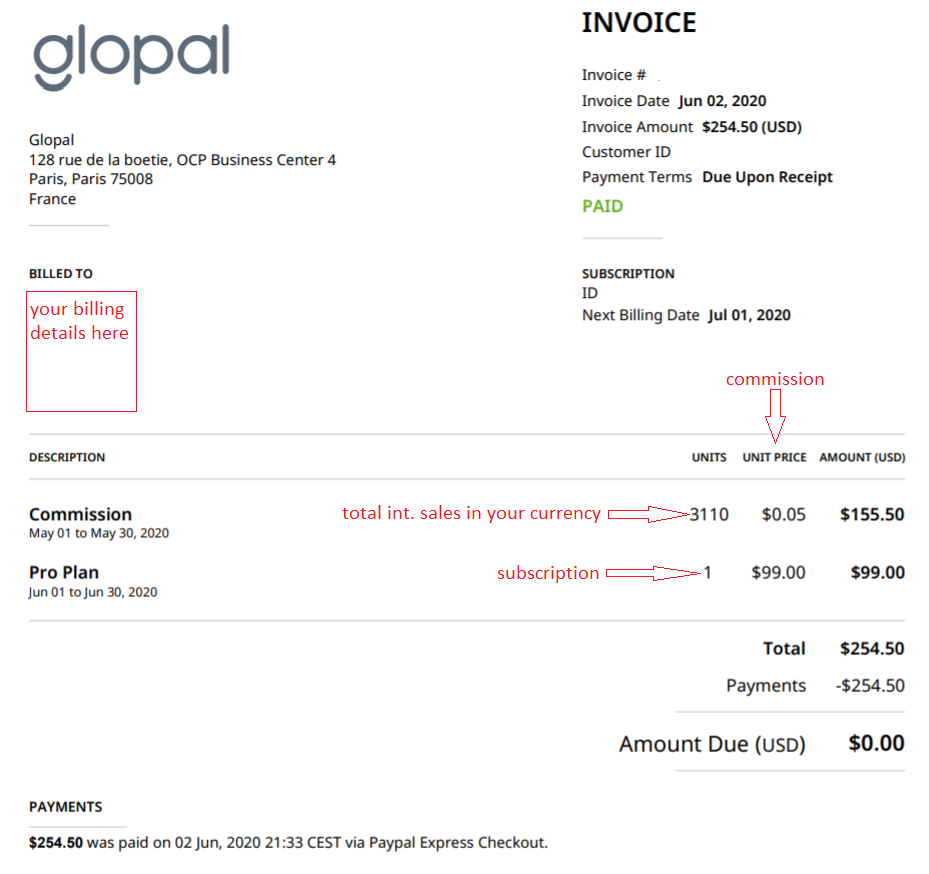 Total international sales in your currency - the total value of international sales processed by Glopal's international checkout.
Commission unit price - 5% commission on international sales (only ones processed by Glopal's international checkout, international sales made on your domestic page are not subjected to Glopal's commission)
Subscription - cost of being a Pro Plan subscriber ($/£/€99)

How to pay my Glopal invoice?
One of the initial sign up steps is authorizing one of the three available payment methods:
PayPal
Credit card (Visa, MasterCard, American Express)
Direct Debit (this payment method is currently not supported
The provided payment method is going to be associated with your Pro Plan subscription from then on.
During this step you are giving Glopal permission to automatically charge you for the last month's service and commission on generated international sales.
The calculated amount will be taken from your account once the invoice has been issued and provided to you via email.
If you would like to change the payment method associated with your subscription, please proceed to glopal.chargebeeportal.com and apply the changes.
If you require assistance feel free to reach out to your dedicated Account Manager of one of our Customer Care Agents.
How to check the transactions that are included in the invoice?
Glopal provides its customers with access to a Merchant Account.
By logging into the account you gain access to some useful information such as a detailed breakdown of transactions coming from active countries, sales numbers, sales report etc.
If you notice a discrepancy between what you see in your Account and what is shown on the invoice please check the linked article for instructions.
How to access my Glopal invoices?
All Glopal invoices will be sent to the email address you have provided us with during the registration process.
If you would like to access previous invoices and payment history, please proceed to https://glopal.chargebeeportal.com/
What to do if I have a claim?
In case you believe you have been partially erroneously charged by Glopal, please reach out to your dedicated Account Manager with details.
A claim will be opened on your behalf and an investigation on our end will be launched.