Sometimes it may happen that translations showing on your localized sites are not the perfect match with your brand glossary, your products specifics or your editorial style. For such situations, you can now use our new in-line Glopal Translation Editor tool.
Here is how to proceed to edit any translation on your localized sites.
Step 1 : Log in to the Translation Editor
Your account manager has provided you with a personalized link to access the Editor.
If you're not already logged into your Glopal account, you will be presented with a logging screen.
Sign in using your Glopal account credentials

.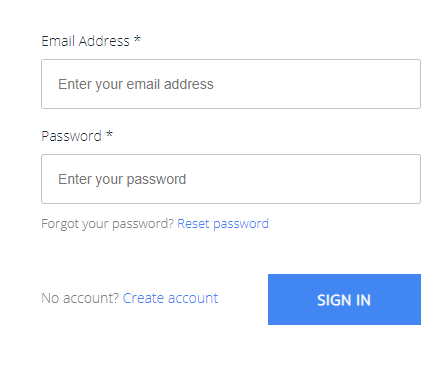 Please note that you should not share your Glopal account credentials with anyone.
If you need to provide access to this tool to a 3rd party or an external agency, please contact us.
Step 2 : Select your localized site and start your Translation Editor session
Glopal Translation Editor is an in-line edition tool. You will need to browse the localized site with translations you want to modify, and apply your changes using the tool. Therefore, the first step is to select which localized site you want to navigate.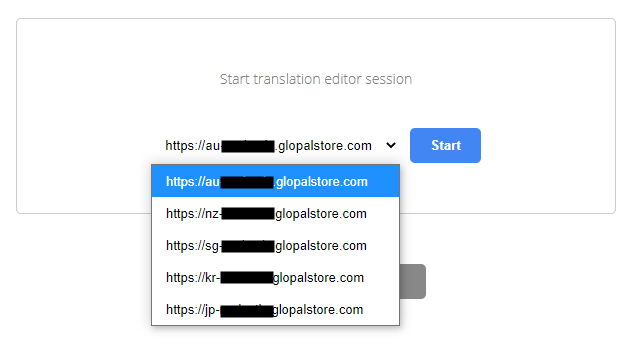 Select the localized site

on which you want to make translation editions, using the drop-down menu

Hit the start button to open your session.

You will be automatically redirected to the selected site.
If the Translation Editor session is successfully started, a new yellow Translation Editor button will appear above your site in the top right corner.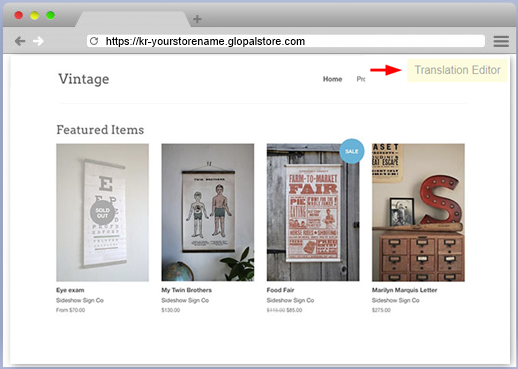 Step 3 : Open the Translation Editor window and Browse your site
On your localized sites, translation is processed segment by segment. A segment is a portion of text appearing on your site. To be able to modify a translation, the Translation Editor tool needs to load all segments present on visited pages. Here is how to proceed.
Click the yellow Translation Editor button

to open the Translation Editor window. Editor initially will load without showing any segments.

While keeping the Translation Editor window open, browse your site to the page you want to modify or reload the current page.

As you browse pages, the translation editor will show discovered segments in the list. If this is not the case, please refresh your site's page and wait for the Translation Editor to reload.
Now you can see in the Translation Editor window all translated segments. For each segment, you can identify the Source text in origin language and the Target text translated.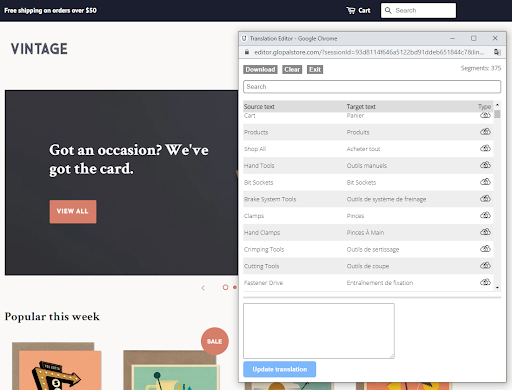 Step 4 : Edit Translations
Now, it is time to modify translation on your selected segment directly from the Translation Editor window.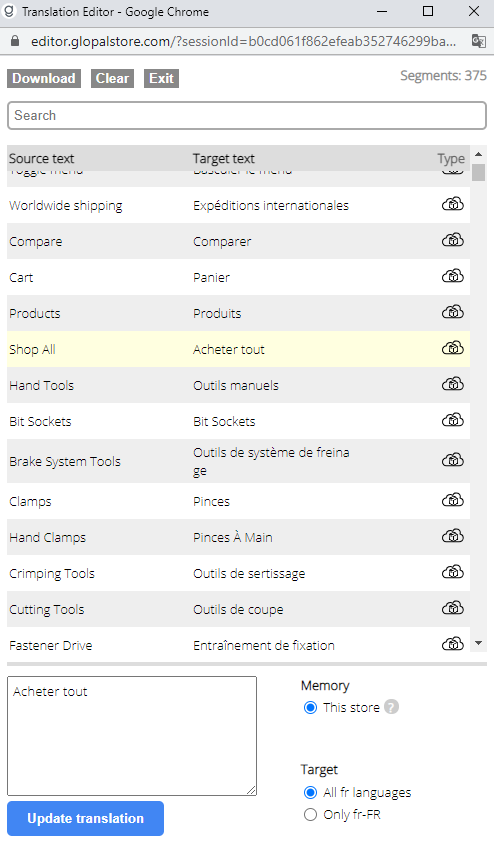 A. Use the Search bar to find the segment you want to update. You can find segments using origin language or target language.
B. Identify the segment in the segments list and click on it. It will be highlighted in yellow and the target translation will appear in the edit box at the bottom.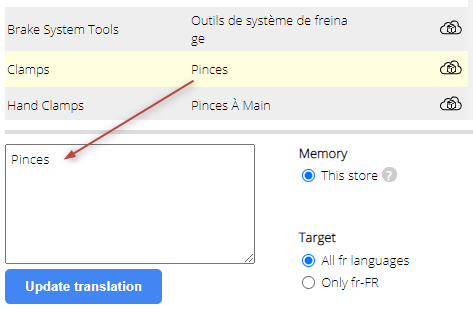 C. Modify the target translation in the edit box
D. Verify the "Target" radio button to define where to apply your modification. By default, your modification will apply to the visited site and to all other localized sites using the same language. You can select the other option if you prefer to modify the translation only on the visited site.


E. Hit the "Update translation" button

F. If the modification is successful, the translation segment will be updated in the list and a confirmation message will appear. Else, an error message will be displayed. If there is an error, you can reload your site's page and retry. If this still does not work, please contact us.
To view your modified translations, you will need to refresh your browser. If modified translations do not appear immediately, please wait for a couple of hours till changes are deployed.
Other options

Download button. If you want to complete a review offline you can navigate pages and then click the Download button to get all segments in CSV format. This format can be opened as a spreadsheet or loaded into other tools. However, for the moment, you won't be able to re-upload a modified version. This will be part of future improvements.
Clear button. Browsing multiple pages may add too many segments in the editor. To see only segments that will appear on the next page, use the Clear button to clear the list before navigating to the next page.
Exit button. Use the Exit button to exit "editor mode". Don't forget to sign out to prevent unauthorized access from your computer.