Sometimes it may happen that translations showing on your localized sites are not the perfect match with your brand glossary, your products' specifics or your editorial style. For such situations, you can now use our in-line Translation Editor tool.
Here is how to proceed to proofread and edit translations on your localized sites.
Step 1: Start your Translation Editor session from your Merchant Account
Log into your Glopal Merchant Account

Navigate to Localization > Translation menu

Select a localized site

Click the Launch Editor button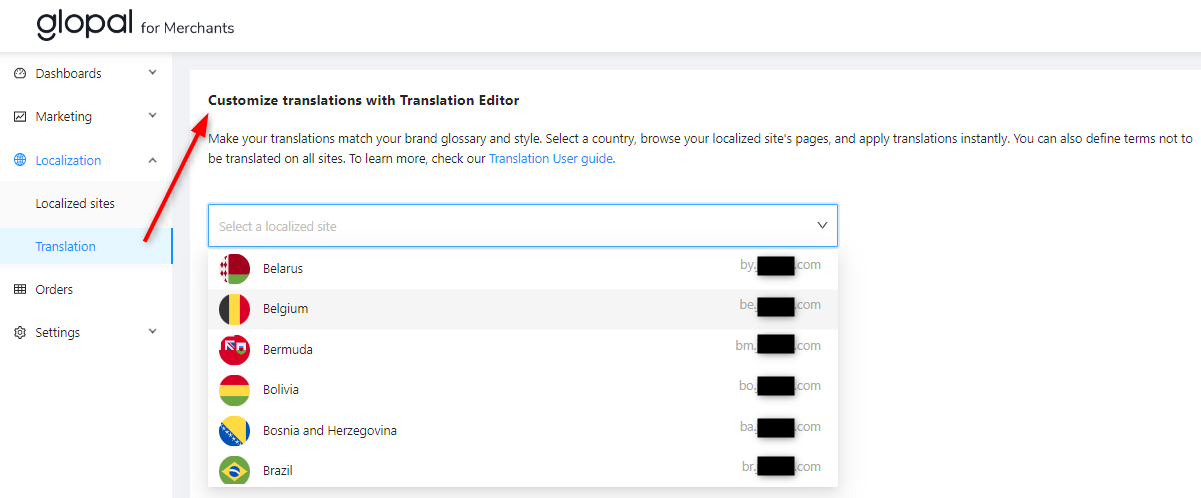 NB: user needs to have Admin or Translator role to be able to use the Translation Editor.
Step 2 : Open the Translation Editor window and Browse your localized site
Translation Editor is an in-line edition tool. You will need to browse the localized site with translations you want to modify, and apply your changes using the tool.
After starting your Translation Editor session, you will be automatically redirected to the selected localized site.
If the Translation Editor session is successfully started, a new yellow Translation Editor button will appear above your site in the top right corner.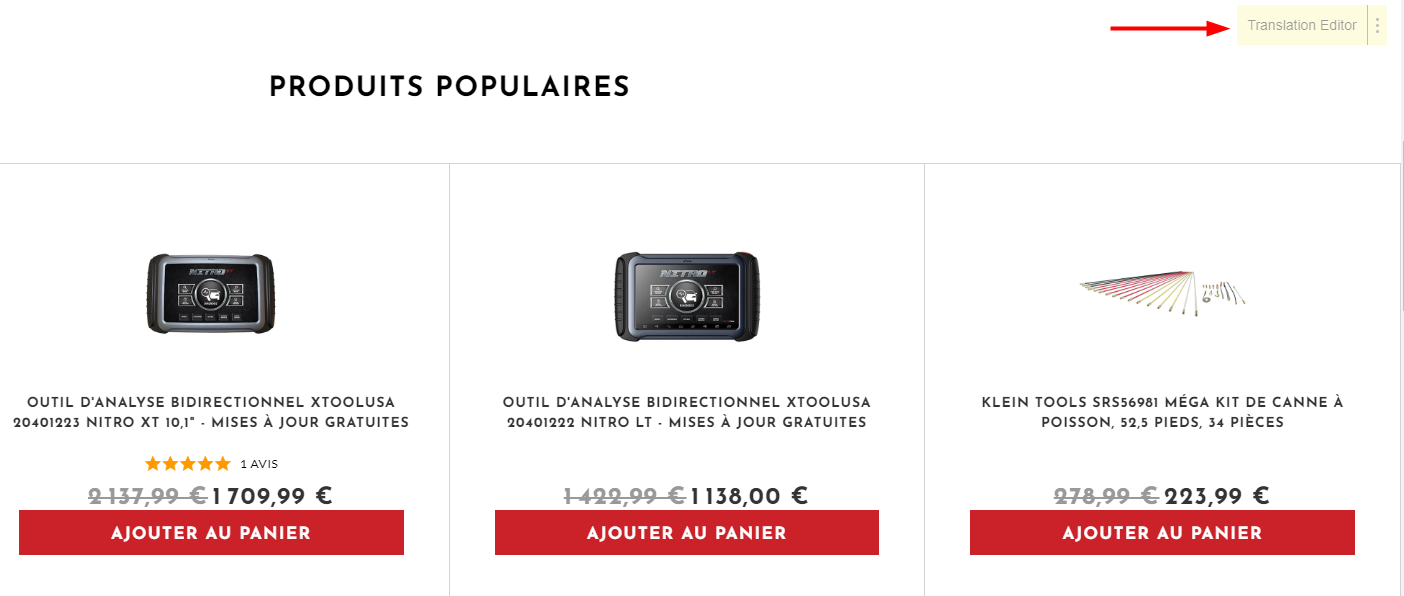 On your localized sites, translation is processed segment by segment. A segment is a portion of text appearing on your site. To be able to modify a translation, the Translation Editor tool needs to load all segments present on visited pages. Here is how to proceed.
Click the yellow Translation Editor button to open the Translation Editor window. Editor initially loads without showing any segments. Please reload the visited page to show segments.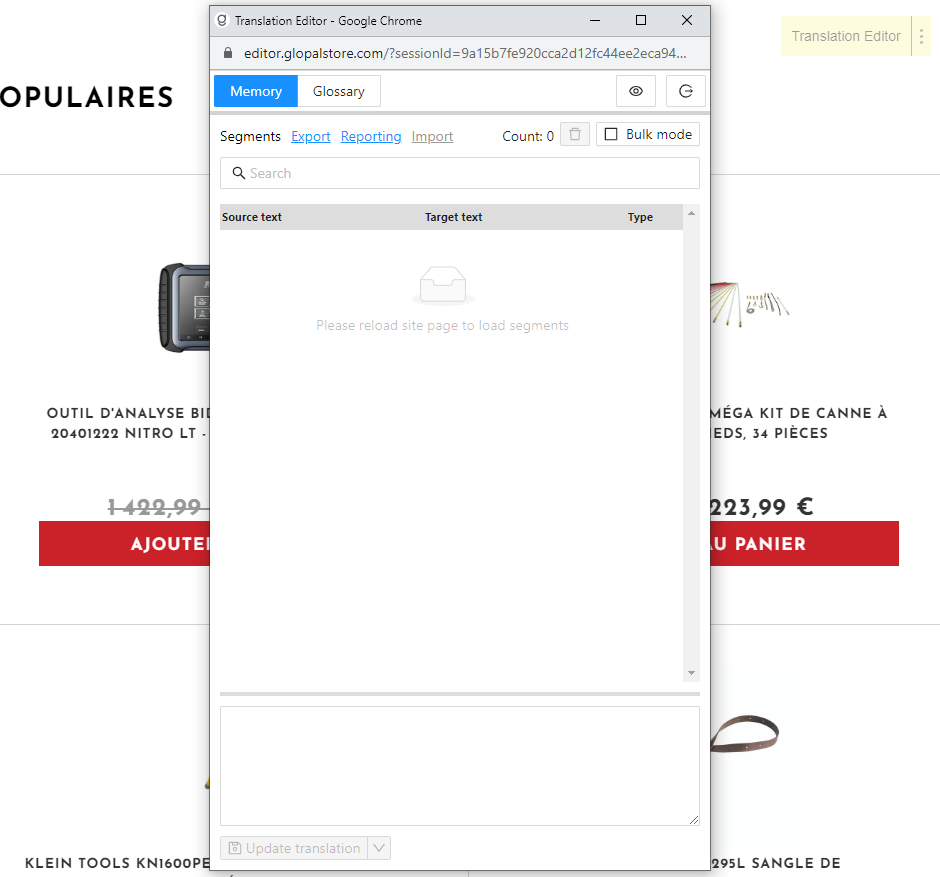 While keeping the Translation Editor window open, browse your site to the page you want to modify or reload the current page.

As you browse pages, the translation editor will show discovered segments in the list. If this is not the case, please refresh your site's page and wait for the Translation Editor to reload.
Now you can see in the Translation Editor window all translated segments. For each segment, you can identify the Source text in origin language and the Target text translated. In the Type column, you can distinguish segments that are automatically translated (Computer icon) from those that were previsouly edited or marked as reviewed by a Human (Green checkmark icon)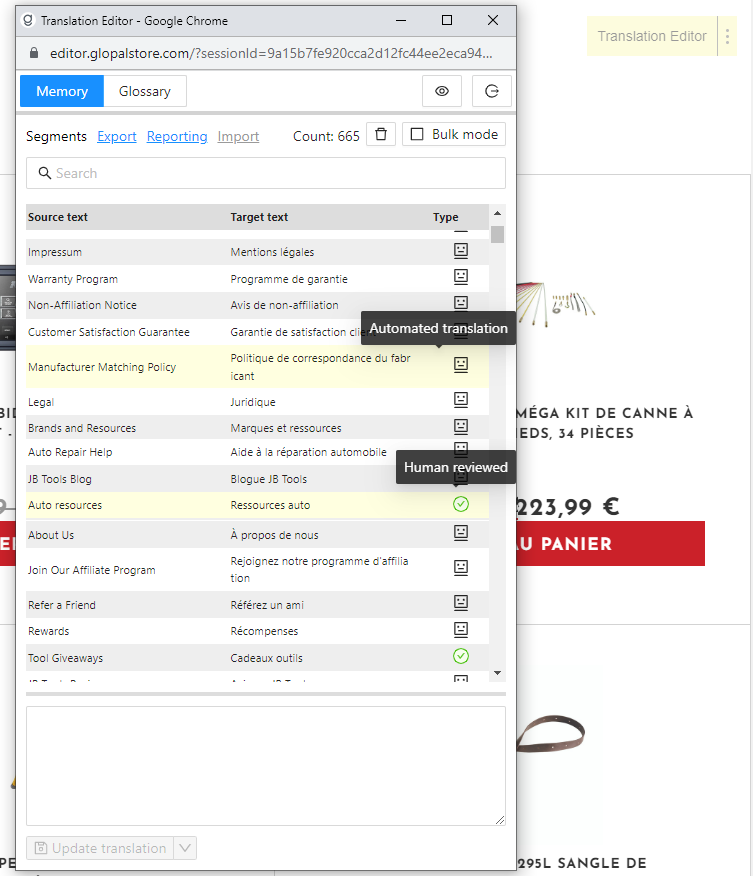 Step 3 : Edit Translations
Now, it is time to modify translation on your selected segment directly from the Translation Editor window.
A. Use the Search bar to find the segment you want to update. You can find segments using origin language or target language.
B. Identify the segment in the segments list and click on it. It will be highlighted in yellow and the target translation will appear in the edit box at the bottom.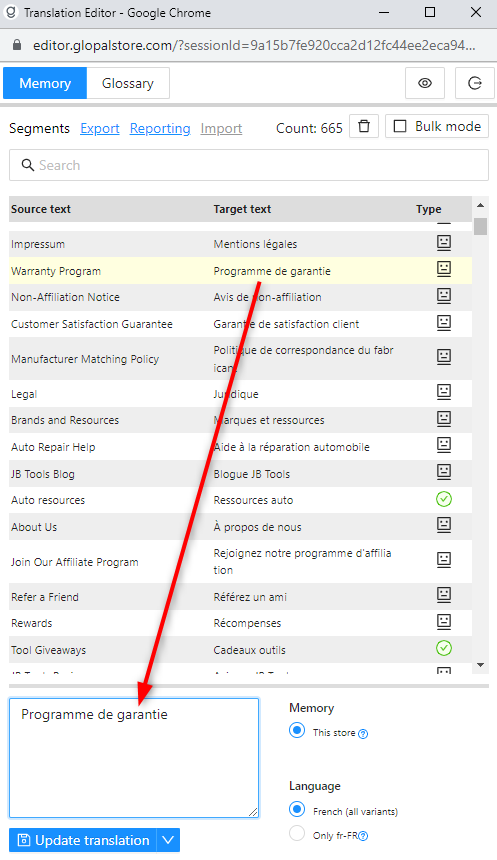 C. Modify the target translation in the edit box
D. Verify the "Target" radio button to define where to apply your modification.
-By default, your modification will apply to all variations of the language used on the visited site. In the example above, modification will apply to all variants of the French language (French spoken in France, French spoken in Canada etc..). Any of your sites using a variant of the French language will inherit from the updated translation.
-You can also select the other option to apply your modification only to the variant of the French language used on the visited site. Selecting "Only fr-FR" applies your change to French spoken in France and will not apply on French spoken in Canada.


E. Hit the "Update translation" button

F. If the modification is successful, the translation segment will be updated in the list and a confirmation message will appear. Else, an error message will be displayed. If there is an error, you can reload your site's page and retry. If this still does not work, please contact us.
To view your modified translations, you will need to refresh your browser. If modified translations do not appear immediately, please wait for a couple of hours till changes are deployed.
Mark segments as reviewed, with no edits
While proofreading your site, it may be useful to not only edit segments but also mark segments that you reviewed. This will facilitate your tasks when doing regular proofreading as you won't need to review segments twice. Remember, that you can easily distinguish segments that are automatically translated by our machine translation from those that were previously either edited or reviewed. You will then be able to focus on segments that were not reviewed by a human yet.
A. Mark a single segment as reviewed
If you select a segment from the translation editor and don't make any changes in the Edit box, the blue action button at the bottom will say "Mark reviewed". Just click on it. Done.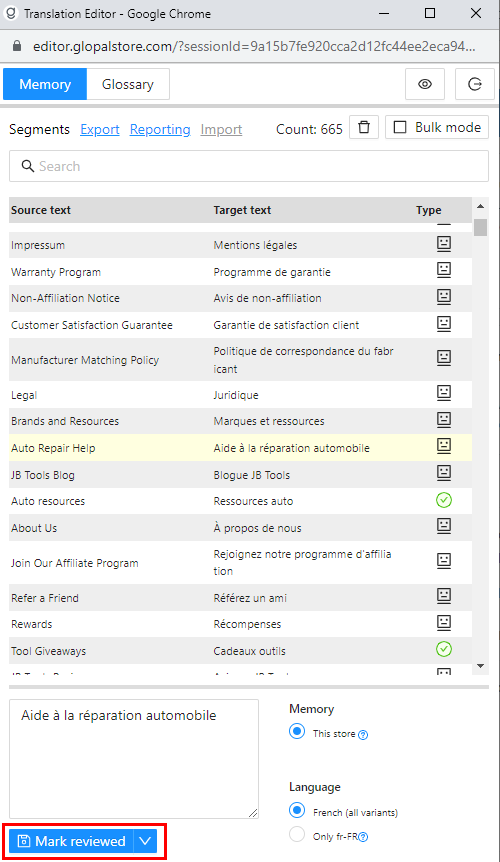 B. Mark multiple segments as reviewed in Bulk
Click the Bulk Mode checkbox at the top right hand corner and select multiple segments showing in the Editor. Count of selected segments will be displayed above the Blue button Mark Reviewed. Click it to mark all selected segments as reviewed.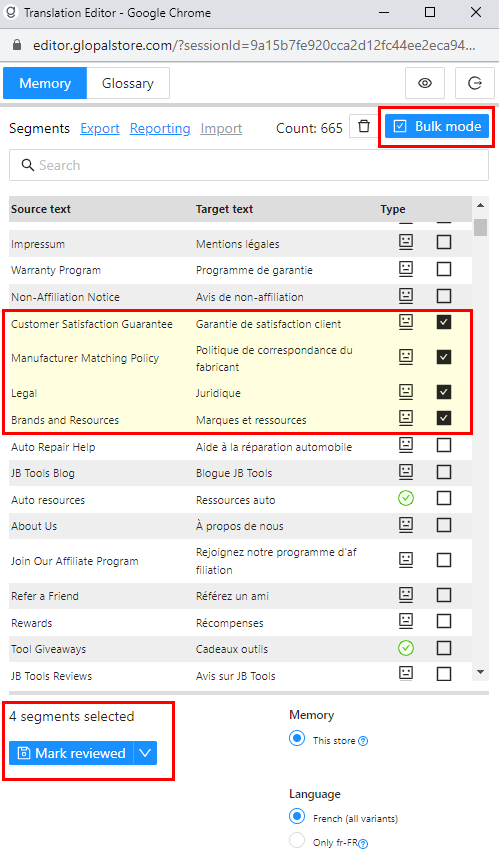 Segments Highlighter
Now you know how to edit a segment or mark it as reviewed. To further help you proofreading your site and locate all segments that are automatically translated by our machine translation, the translation editor embarks a Segments highlighter option.
A. Click the eye icon to activate the Segments Highlighter

B. Reload the visited page
Thanks to the Segments Highlighter, all segments appearing on the page will get a coloured contouring.
Green border: Segments that were edited or marked as reviewed
Grey border: Segments that are automatically translated by machine translation
Yellow border: Segment that is currently selected in the Translation Editor.
A very practical way to visually identify segments that were not proofread yet.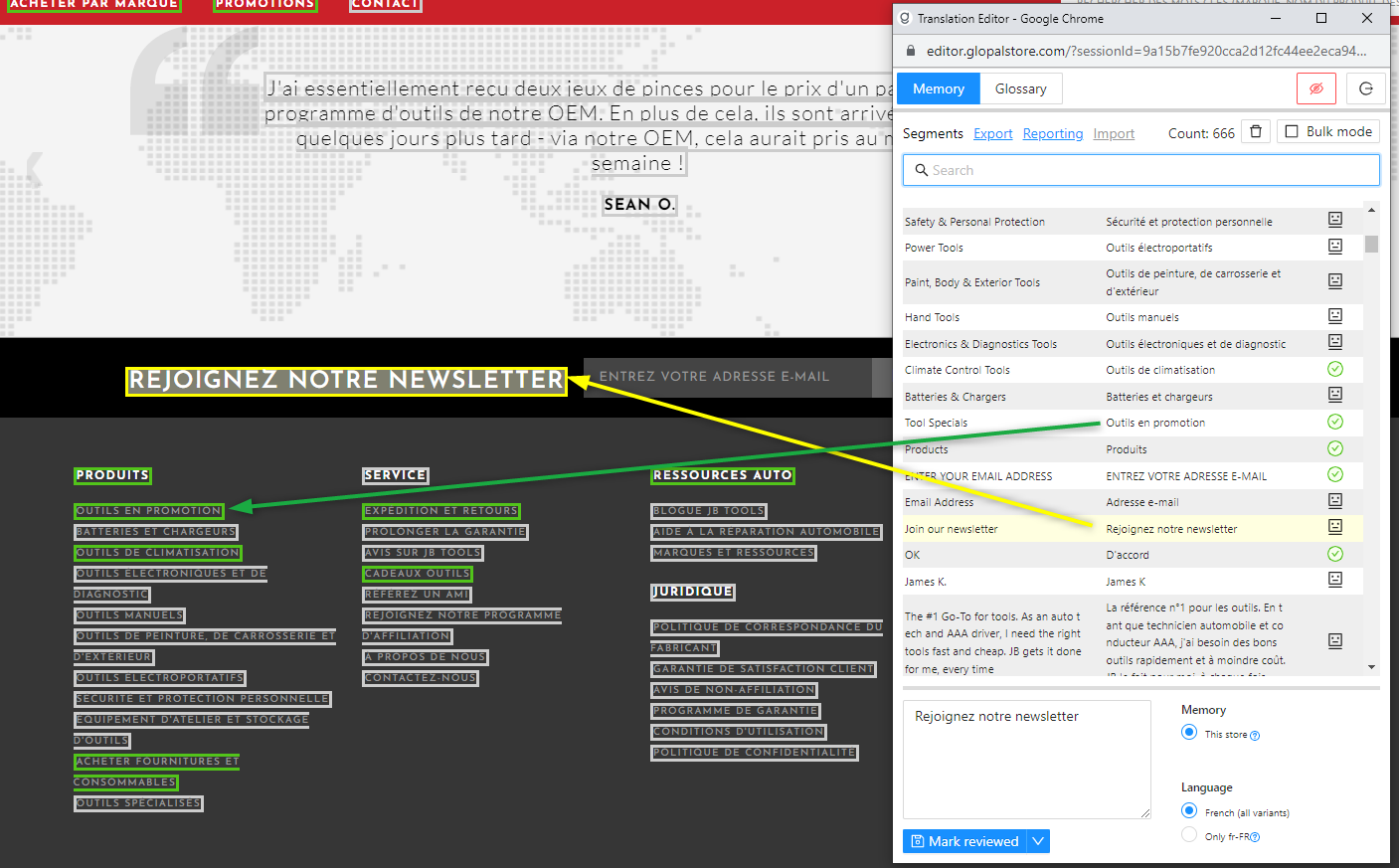 Other options
1. SEGMENTS that should NOT be translated
If you prefer to show the original untranslated content for the selected segment, you can hit the down arrow close to the "Update translation" button. You will then have 2 options:
Keep untranslated for selected language

: segment will remain untranslated for the selected language variant

Keep untranslated for all languages

: segment will never be translated whatever sites and languages

2. TERMS that should NOT be translated
Some terms should never be translated across all your sites, whatever the languages. Most frequent examples are your own brand name or other product brand names sold in your online shop. Those terms may appear multiple times all over your sites and inside multiple segments. To avoid the hassle of modifying each single segment that includes such terms, the Translation Editor embarks an editable list of terms not to translate.

- To access this list, click the Glossary menu at the top of the Editor window.

- In the terms not to translate view, simply Add new terms with the Input box or Remove selected terms. Please note that you should be as complete as possible for each entry to make sure only occurrences of the full terms are not translated.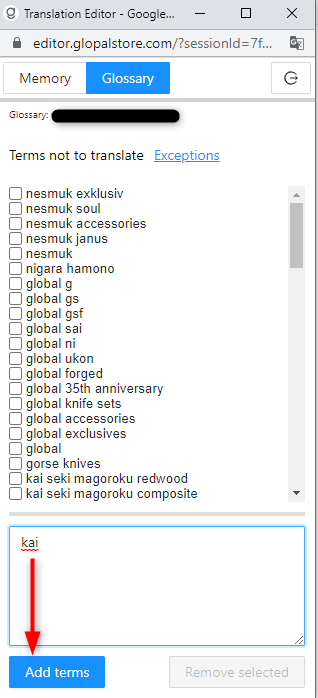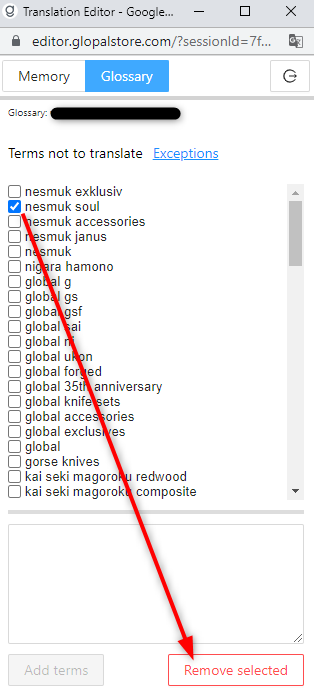 Exceptions sentences
It may happen that a term should generally not be translated except in certain phrases or sentences. If for example your brand name is a generic term (example: Autumn) and you sell clothes, you don't want "Autumn" to be translated except in the phrase "Autumn collection". For this use case, you can add "Autumn collection" to the Exceptions list and keep "Autumn" in the list of terms that should not be translated.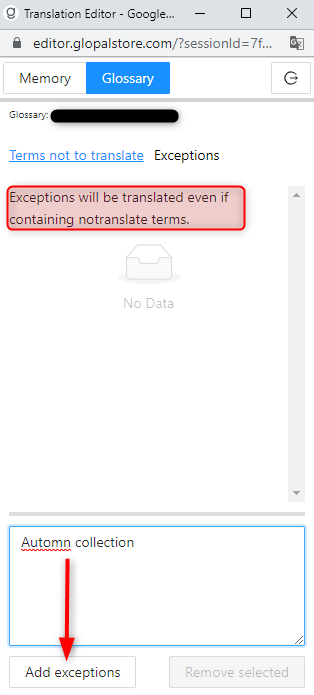 3. Export / Import
If you want to complete a review offline you can navigate pages and then click on Export link in the Memory section. You can then choose from CSV or XLIFF format and download all discovered segments during the browsing session.
After modifying the files you can reimport it from to the Store translation Memory from your Merchant account.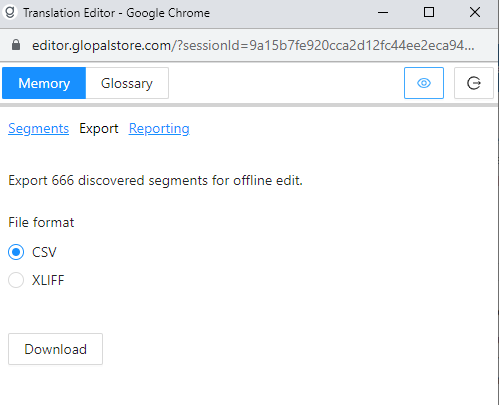 4. Reporting
Translation Editor tool offers ability to download all recent changes (<30 days) you implemented on multiple localized sites from your store. Click the Reporting link and the Download button. This can help you check which segments you reviewed and what changes you implemented.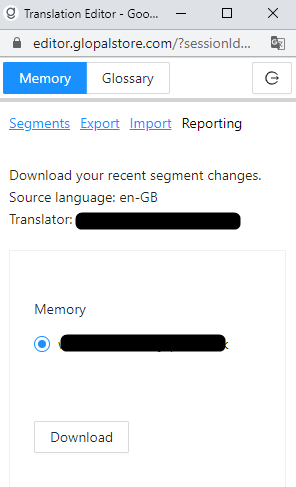 NB: More advanced reporting capabilities are available from the Glopal Merchant Account for Admin users only.
5. Clear & Exit
Clear button.

Browsing multiple pages may add too many segments in the editor. To see only segments that will appear on the next page, use the Clear icon to clear the list before navigating to the next page.
Exit button.

Use the Exit button to exit "editor mode". Don't forget to sign out to prevent unauthorized access from your computer.